It was a weekend of mixed results as many Americans engaged in a dual celebration – the Memorial Day Holiday combined with the first real release from lockdown and shelter-in-place restrictions that have been prevalent since March due to the spread of the coronavirus pandemic.
While some folks at beaches and lakes and other public areas wore face masks and practiced social distancing, others did not. That prompted authorities to, literally, police areas and ask crowds to be more diligent, while health officials warned that disregarding safety measures could trigger a second wave of COVID-19.
At some spots in Florida and California, authorities closed parking lots near beaches to discourage more people from setting up shop on the sand.
It prompted warnings and advisories on social media.City of Clearwater, FL✔@MyClearwater
The public parking lots on Clearwater Beach are all currently at capacity. There is still room in the Hyatt parking garage. Be sure to check http://pcsoweb.com/beachcapacity for beach and parking lot closure updates throughout the day.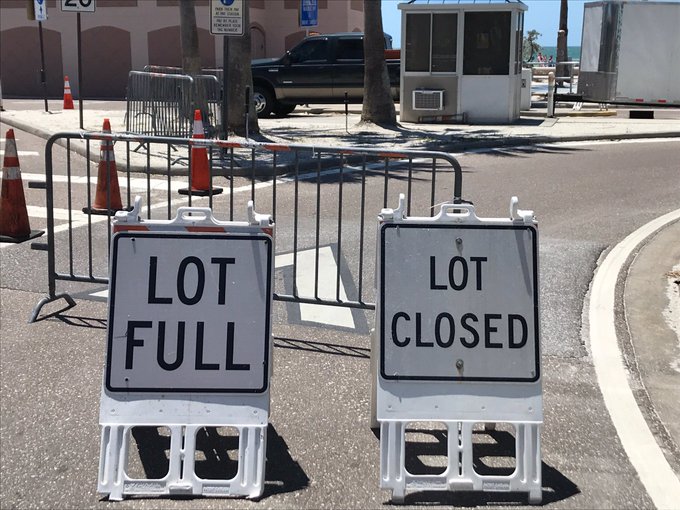 But in other places like Maine and Virginia, where swimming was prohibited, people were respectful and simply walked quietly on the beach.
And even in New Jersey, one of the hardest-hit states by the virus, people were diligent.Steve Keeley✔@KeeleyFox29
Big wide beach&big beautiful blue skies&sunshine in Wildwood for easy social distance summer of 2020 start. And beautiful blowing USA flag, reminding of sacrifices of so many on foreign beaches in past wars who died for freedom. Thanks Wildwood Beach Patrol for pic @FOX29philly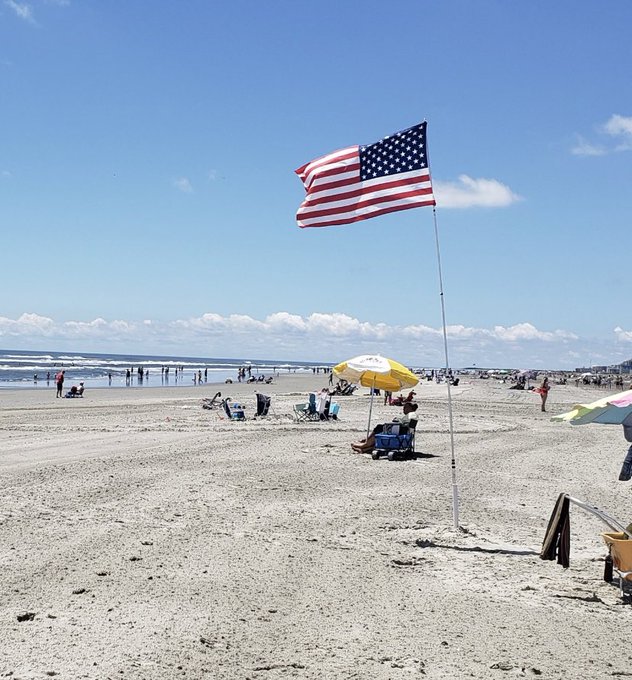 But this was the scene at St. Simon's Island, Georgia.Sam Franco@samjfranco
Social distancing… ¯\_(ツ)_/¯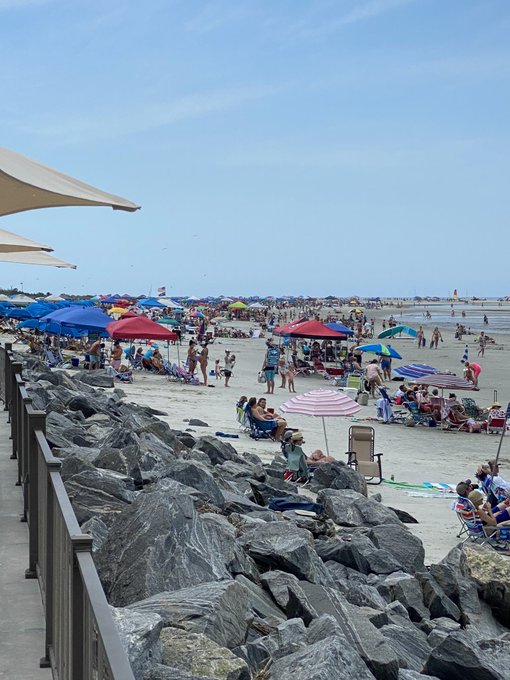 And Ocean City, Maryland, one of the most popular and densely packed tourist areas on the eastern seaboard because of its famed three-mile boardwalk, was packed with visitors from Washington D.C., Baltimore, Pennsylvania and southern New Jersey.
Chris Sexton, who traveled to Ocean City from Baltimore, told a local television station it was 'heaven.'
"Hallelujah! I would think there would not be that many people, but it was more than I expected," he said.Jim Bourg✔@jimbourg
With the relaxing of the coronavirus disease (COVID-19) restrictions, visitors crowd the boardwalk on Memorial Day weekend in Ocean City, Maryland. REUTERS Photo by Kevin Lamarque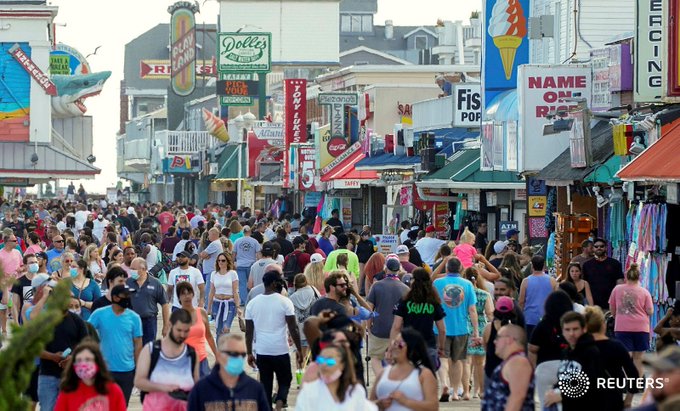 And folks were not afraid to visit destinations far from home.
"I mean, I think we are keeping our distance from other families and other groups of friends. I feel really safe out here," Carolina Camp, who drove from Nashville, Tenn., told 4News in Folly Beach, S.C.Greg Brzozowski@GregBrzozowski
Folly Beach looked similar to Memorial Day Weekends of the past, even though there's plenty that's different going on.

But if you want to get to the sand at some point this weekend, mayor Tim Goodwin stresses to show some patience when it comes to traffic and parking. @ABCNews4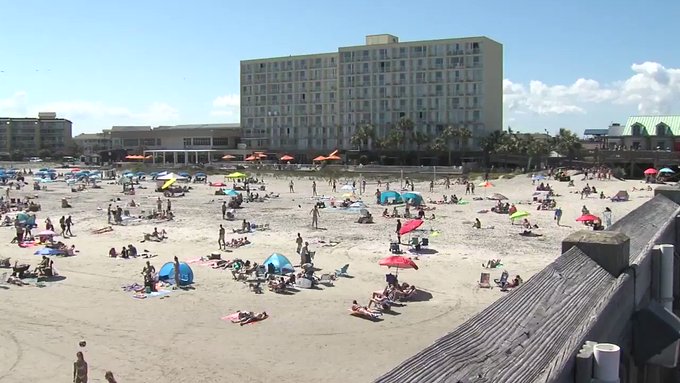 But perhaps no place was wilder than Lake of the Ozarks in Osage Beach, Missouri.Max Baker@maxbaker_15
This video is on Snapchat in the Lake of the Ozarks? Unreal. What are we doing?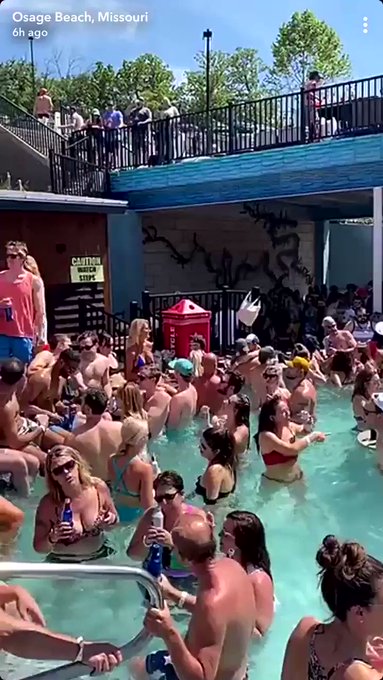 John Olivarri, mayor of Osage Beach, said that short of shutting down the popular destination there was little he could do.
"My concern is for our workers and whether some of the folks that have come down might be creating a health problem for the community, absolutely," Olivarri said. "But the only other thing that you could do would be shut it down. I don't know how you would shut down Lake of the Ozarks. There's no way to control that."
Alan Hull, the front-desk manager at the Days Inn told the St. Louis Dispatch, "We are a lot busier this year. All the hotels here around the lake are busy."
But at Disney Springs at World Disney World in Orlando, capacity was trimmed to help aid social distancing, according to TravelPulse writer Brooke McDonald, who traveled from Illinois to Florida this past weekend.Brooke Geiger McDonald@BrookeGMcDonald
Crowds were light enough at Disney Springs today that social distancing came naturally. Orange and lime garages both had a ton of spaces at 3:45pm. #DisneySprings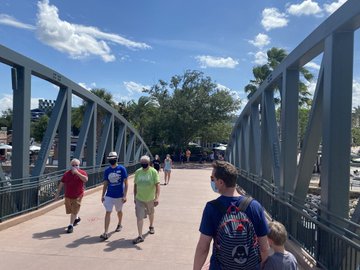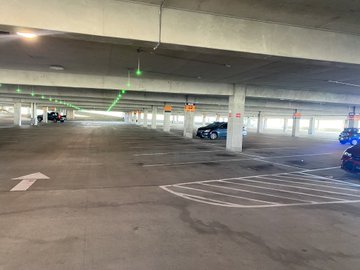 The death toll from the virus is expected to reach 100,000 shortly in America. But it's not just in the U.S. where people are stretching their legs, so to speak, after being confined to their homes for the better part of two-plus months.
This was the scene at Bournemouth Beach in England on Monday.Piers Morgan✔@piersmorgan
The Cummings lockdown-ignoring effect… Bournemouth beach today.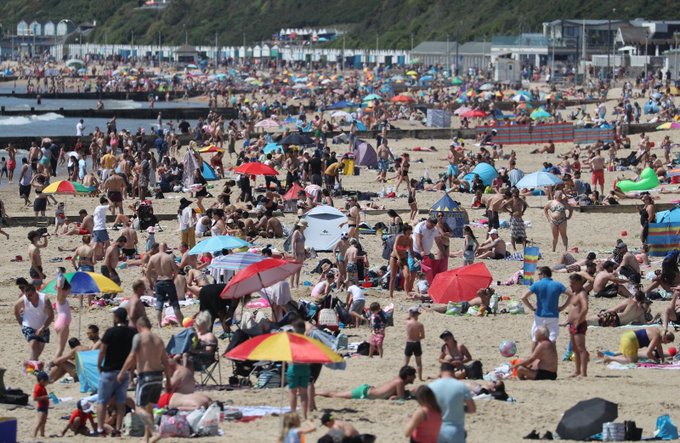 The Memorial Day holiday weekend was certainly different this year because of the global pandemic, but that didn't stop some from traveling to nearby destinations to partake in festivities.
Source: Travel Pulse